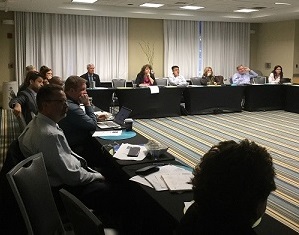 Florida ARF Members Visit Tallahassee to Promote the Interests of Individuals with Disabilities
Tallahassee, FL (January 29, 2016) On January 25-26, 2016, Florida ARF member agencies met in Tallahassee to participate in the Association's 2016 Legislative Fly-In. On day one, members heard from state agency leaders on issues such as Agency for Persons with Disabilities (APD) iBudgets, Vocational Rehabilitation updates, and ICF/IID licensure. On day two, members met with their legislators to discuss their concerns and to educate lawmakers about the service and support needs of individuals with disabilities. Florida ARF encourages all member agencies to continue to communicate the needs of individuals served to their legislators!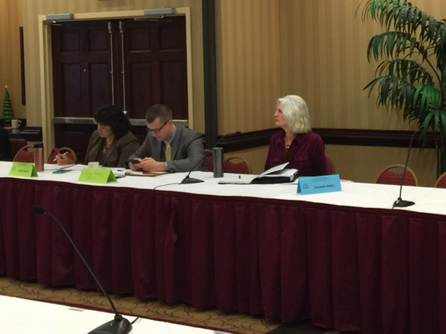 Florida ARF Shares 2016 Legislative Platform with Stakeholders
Tallahassee, FL (December 9, 2015) Today, Florida ARF joined with multiple stakeholders and self-advocates in the Intellectual and Developmental Disabilities field to review each entity's 2016 legislative platform. The event was sponsored by the Florida Developmental Disabilities Council. Florida ARF President & CEO Suzanne Sewell presented the Association's platform and stressed the need for provider rate relief. Sewell noted that: "Several sister organizations and self-advocates truly recognize the strain that exists within the provider network that serves individuals with disabilities, and they understand the need for rate relief so that individuals can receive the quality services and supports they need." Sewell pointed out that provider reimbursement rates are on average 14% below the 2003 rates, and the number of providers within the iBudget system has decreased by 35% since FY 07-08. Sewell also discussed the fact that Florida's minimum wage has increased 56% since 2003 which is a key factor considering most of the services provided by member agencies rely heavily on direct care staffing. During the same time many costly regulations have been added that further increase the cost of care for provider agencies. Florida ARF looks forward to working collaboratively with other stakeholders to address this problem.

For more information on the Florida ARF platform and provider needs, please visit our Grassroots webpage.

Governor Releases FY 2016-17 Budget Recommendations
Tallahassee, FL (November 23, 2015) Today, the Office of Governor Rick Scott released the Florida First Budget which contains the Governor's funding recommendations for FY 2016-17. Within the budget, we were pleased to see additional funding to serve 700 people from the Agency for Persons with Disabilities (APD) waitlist. Also, funding was recommended for reinstatement of the Adults with Disabilities program at $10 million, and provisions were included that would allow APD to cover increased service costs for changes resulting from recent federal Department of Labor rule changes. Even so, community agencies that provide iBudget and ICF/IID Medicaid funded services were disappointed that the budget did not contain much needed rate relief. For more information about provider rate relief needs, please access our Grassroots webpage.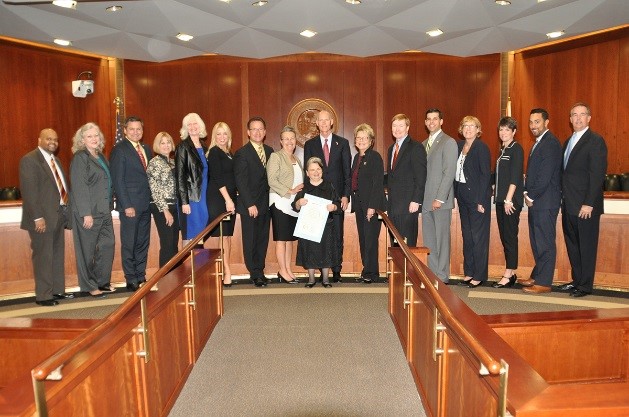 Florida Cabinet Declares October Disability Employment Awareness Month
Tallahassee, FL (October 2015) Florida Attorney General Pam Bondi introduced a resolution at the September 29 Cabinet meeting declaring October as Disability Employment Awareness Month in Florida. Leaders from APD, Department of Economic Opportunity, Vocational Rehabilitation, Blind Services, Veterans' Affairs, The Arc of Florida, The Able Trust, Florida Developmental Disabilities Council, and the Florida Association of Rehabilitation Facilities were there to accept the resolution. Agency for Persons with Disabilities (APD) employee Stacia Woolverton addressed Governor Rick Scott and the Florida Cabinet on the importance of including people with disabilities in the workforce. Florida ARF and other advocates are pleased to celebrate this very important month because it recognizes the accomplishments of individuals with disabilities and the many businesses who assist them with achievement of their employment goals.